Take a moment to read Dr. Scott Hoffman's essay on Considering Matthew Shepard that gives both historical and personal perspective on the events of 20 years ago while asking us to think about the act of remembering and finding meaning as a way for communities to heal.
Considering Matthew Shepard: The Power of Remembering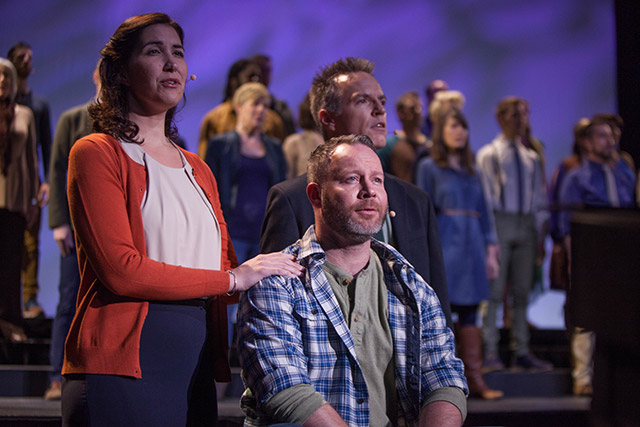 I remember. When I listen to Craig Hella Johnson's oratorio, Considering Matthew Shepard, I remember a cold, gray Indiana day in October 1998. Some fifty people huddled together on the campus of Purdue University where I was a student. We held candles. Some of us wept. We sang a song about singing for our lives. Twelve hundred miles away in snowy Wyoming, they were burying Matthew Shepard, a young man attacked and left for dead tied to a fence simply because he was gay. He lingered for six days before succumbing to his injuries. His story inspired candlelight vigils and protests across the country. There was an outpouring of sympathy for Shepard, his family, and for gays and lesbians, a moment unprecedented in American history. At Purdue, a land grant college in a conservative state, we gathered to honor him and to speak out against hate. We felt like we were alone, but we were not. The murder of Matthew Shepard came at a certain moment in history and fostered a new surge of activism on campuses, in towns, and across the nation. Johnson's Considering Matthew Shepard captures that moment and invites deeper reflection upon it.
October 1998 felt full of potential for many lesbians and gays. True equality seemed within reach. Decades of political activism starting in the 1960's had ended the days when the FBI kept lists of suspected homosexuals or when consensual sex between two adult men (so-called "sodomy") could easily result in prison sentences or even time in a mental institution. After years of government inaction on AIDS, activists had pressured Washington into finally addressing the crisis. Popular polls indicated that a growing number of Americans viewed lesbians and gays more favorably. The Clinton administration announced a new policy that would allow homosexuals to serve in the military without fear of dishonorable discharge. They called it "Don't Ask, Don't Tell" (DADT). A hate crimes bill with specific protections for homosexuals was wending its way through Congress. Yet, there was still a long way to go on the road to equality. Sodomy laws remained on the books in many states, though rarely enforced. Polls, while favorable, indicated that a majority were still intolerant of gays and lesbians. Discharges actually increased under DADT. President Clinton signed the Defense of Marriage Act, a poor political compromise that all but made same-sex marriage a pipe dream. It was an age of "two steps forward, one step back." In the small college town of West Lafayette, it almost didn't matter. There was still open hostility. People shouted homophobic slurs from their pick-up trucks. Letters regularly appeared in the student newspaper comparing homosexuality to pedophilia or even bestiality, all without repercussion. Homophobic violence often went unreported out of fear. I was tentatively coming out and rued my decision to come to Indiana. Yet I had one safe place on campus, the LesBiGay Network, a student organization where many of us would gather. Sadly, transgender students had yet to be recognized and were hesitant to join. We were involved in some political action, but mostly it was a social group.
Into this came Matthew Shepard. As young gay students also in a conservative rural area, we identified with him immediately. We felt grief and shock and horror. Some of us, on the cusp of coming out, retreated back into the closet out of fear. My friend Ryan had heard that Fred Phelps' and Westboro Baptist Church had threatened to picket the funeral and decided to check out their website. He found a picture of Matthew surrounded by flames and a counter indicating the number of days that he had supposedly been in Hell. "I can't believe people are that hateful," he told me. Another friend, Craig, created a wallpaper for his computer that honored Matt in words and pictures. He saw a lot of himself in Matt. We watched the vigils and protests. We saw Ellen DeGeneres, Barney Frank, and many others speak out on the steps of the nation's Capital. That ultimately became our response, creativity and action in the face of hate and violence as we huddled together on a cold gray day singing for our lives.
Considering Matthew Shepard continues that response today. It is a bold work. A fusion oratorio, it draws upon a dizzying variety of musical styles to tell Shepard's story: classical choral and symphonic music, a cowboy song, spoken text, hymns and spirituals, jazz, and pop. Composer Johnson and his co-librettist, Michael Dennis Browne, have selected an equally dazzling variety of texts, turning to poets and authors such St. Hildegard of Bingen, Rumi, and Lesléa Newman, author of October Mourning: A Song for Matthew Shepard, a novel in verse. They also draw upon less traditional sources, such as newspaper accounts and interviews with Shepard's parents. Perhaps most surprising and insightful are selections from Shepard's own journals, where he describes himself as "funny, sometimes forgetful and messy and lazy." He adds, "I am not a lazy person though." Yet the oratorio does more than simply humanize an icon. We now know so much about Matthew Shepard from memoirs, biographies, and documentaries that he no longer appears to be the flattened character first seen in news accounts twenty years ago. Instead, the piece invites us to move past our initial perceptions and into the paradox of an "ordinary boy," as the choir sings at one point, who possessed "extraordinary light and joy." It wasn't that Shepard was a perfect person, but he was a decent one. He sought to help others. He cared deeply about social issues. "Matt's story is not unique," Judy Shepard, his mother, says, "it represents a lot of stories that happen in the world." Coming to us at that particular moment in history and under horrific circumstances, his simple decency allowed him to represent those of us who suffer because of who we are. As soprano Mela Delaney notes, Shepard's story "becomes personal and universal at the same time."
Considering Matthew Shepard's eclectic mix of texts and musical styles captures and breathes new life into an experience shared by many Americans. It was not just another news story, but something deeply personal and interpersonal. The choir is a metaphor for a nation grappling with how to respond to an eruption of hate and violence in a time of supposedly greater tolerance. It comes to recognize that the community itself, as it cries "crucify, crucify," is ultimately responsible for such darkness. There is anger, anguish, and grief. Yet there is also the telling of stories "so that we remember" and "find meaning in the living of our days." Considering Matthew Shepard captures how his murder was a formational experience that propelled many of us towards greater awareness and action. The years that followed saw a string of successes in the struggle for greater equality. Polls indicate that a majority of Americans now have a favorable opinion of LGBTQ people. Sodomy laws were overturned. The military ended its policy of "Don't Ask, Don't Tell," allowing gays and lesbians to serve openly. The Supreme Court gutted DOMA and declared same-sex marriage the law of the land. The Matthew Shepard and James Byrd Hate Crimes Prevention Act finally passed in 2009. At Purdue, the work we began at the vigil continued as we confronted an anti-gay speaker invited to campus and launched a new wave of activism to bring greater awareness and acceptance to the university. We, and those who came after us, have since achieved much progress.
Yet, we still remember Matthew Shepard because the hate and the injustice that led to his death in 1998 remain with us today. We are experiencing a rollback of rights and protections for LGBTQ+ people. Johnson invites us to consider how we can respond to that right here and now. For him "considering" (or "consideration") is an act of reflection, taking the time to think carefully. Art can play a vital role in such contemplation. Considering Matthew Shepard allows us to do that, to literally consider Shepard's life and the value of all life. Reflecting on the responsibility we all bear for the hate and violence in our community, it offers a path from horror to transcendence. "From the shadows climb," the singers sing to us, "rise to sing again." Art, whether creating wallpaper for a computer monitor or composing a fusion oratorio or simply singing on a cold, gray day can help us bind our wounds and find healing. Listening to Considering Matthew Shepard, reminds me of how vulnerable I still am as a gay man in this society. Yet, recognizing that vulnerability has enabled me to recognize and empathize with others' vulnerability: women, African Americans, transgender people, and so many more. As Judy Shepard so often reminds us, to lessen our vulnerability, we must all work together to uproot hatred and establish full equality. This not simply a political agenda. It is a matter of loving our neighbors as ourselves. It is a matter of finding love in the darkness.
Johnson also understands consideration as the act of remembering who we are. He calls it coming home. We can find our true selves in remembering, in looking back and pondering where we have been. Considering Matthew Shepard is itself the act of a community remembering its history and finding meaning. We can also remember and find meaning as individuals. I remember. I remember a reporter from the student newspaper approaching me on a cold, gray day in October 1998 to ask a few questions about the vigil. "What's your name?" she said. I hesitated. Then I thought of the people that day who bravely showed up and spoke out. Then I thought of Matthew. If I don't tell her, it'll be like he died for nothing. "Scott Hoffman," I said. "My name is Scott Hoffman."
About the author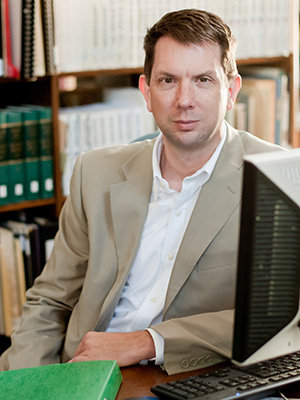 Scott W. Hoffman holds a Ph.D. in American Studies from Purdue University and currently resides in Austin, Texas. An independent scholar, he has made numerous presentations and published many articles and reviews, including "'Last Night I Prayed to Matthew:' Matthew Shepard, Homosexuality and Popular Martyrdom in Contemporary America," in Religion and American Culture. Dr. Hoffman was nominated for a Lone Star Emmy for his script for The World, the War and Texas, a public television documentary about Texans during the Second World War. He also compiled an LGBT Resource Guide for the Austin History Center, for which he received a Best of Austin Award. He recently presented "We Are Like This: Experiencing the Murder of Matthew Shepard in a Small College Town" at Appalachian State University.